Italian rental firm Fratelli takes 2nd Liebherr lattice boom crane
23.08.2021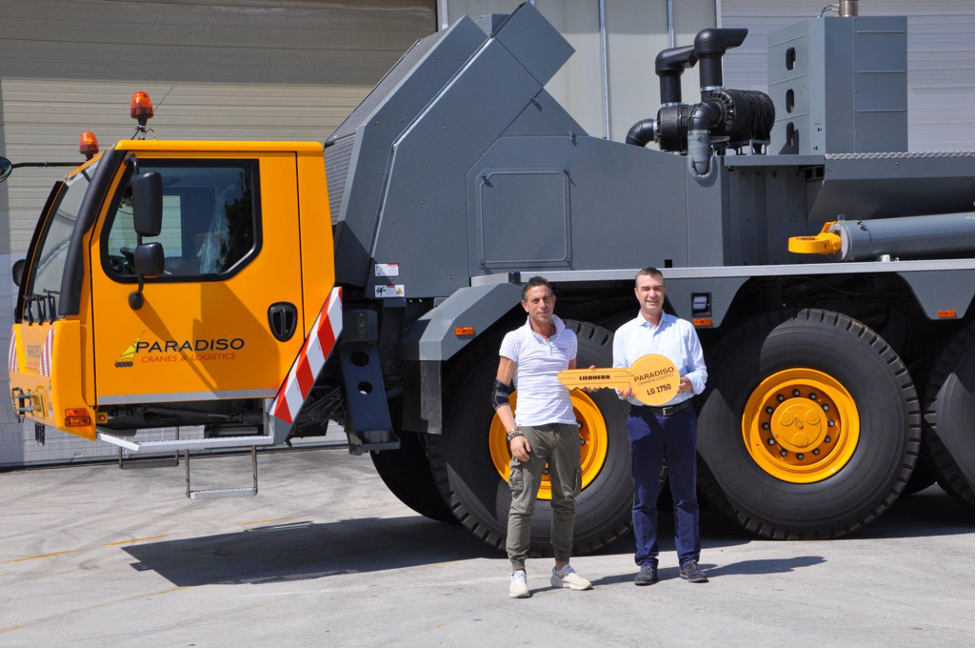 Italian crane rental company Fratelli Paradiso S.r.l. has taken delivery of a second Liebherr LG 1750 lattice boom mobile crane, to be used mainly for the assembly of wind turbines.
In recent years, Apulia-based Fratelli has focused its activities on the growing renewable energy market, especially wind energy. Michele Paradiso, owner and CEO of the company, explains: "We recognize a higher demand for high performance cranes in Italy and we want to grow further by focusing on large cranes and investing in Liebherr products."
He describes the 8-axle LG 1750 as the "queen" of cranes for the wind energy industry in the 750-tonne class. For several years, Paradiso has operated the world's strongest lattice boom mobile crane, which led to the decision to purchase another crane of this type.
The LG 1750 lattice boom mobile crane offers the flexibility of a 750-tonne crawler crane, with the mobility of a high-speed truck crane. It thus combines the advantages of both crane types in one concept.
For the LG 1750, Liebherr uses the crane slewing platform and boom system of the LR 1750 crawler crane, as well as an eight-axle chassis of the latest design with speed-dependent rear-axle steering. The lattice boom mobile crane is therefore said to be ideal for fast assembly operations in wind power, industrial construction or infrastructure.
The chassis travels to the construction site with all four outriggers at a total weight of 96 tonnes. If required, the outriggers of the LG 1750 can be removed, reducing the weight to 48 tonnes.
Liebherr offers a wide range of special wind power boom systems for the LG 1750, which are optimized for smaller and medium-sized turbines as well as for the latest generation of wind turbines with tower heights of up to more than 160 meters.
"We have chosen the SL8HS configuration with 119 meters, which is ideal for small to medium-sized turbines," adds Paradiso. "We don't have to set up a derrick system for this - that saves time and money. But we can easily extend the crane later, up to the new powerful SX3 system with 165 meters."
Fratelli Paradiso S.r.l. was founded in 1967 by Vito Paradiso. The family business is run by the second generation, Michele, Francesca and Silvia Paradiso. It operates an extensive fleet of medium to large cranes, including ten Liebherr cranes over 230 tonnes.
The company is well-known for its crane work in Italy, but also throughout Europe and North Africa, especially for wind power projects.