Hanyš takes Liebherr's 1,000th mobile construction crane
16.02.2022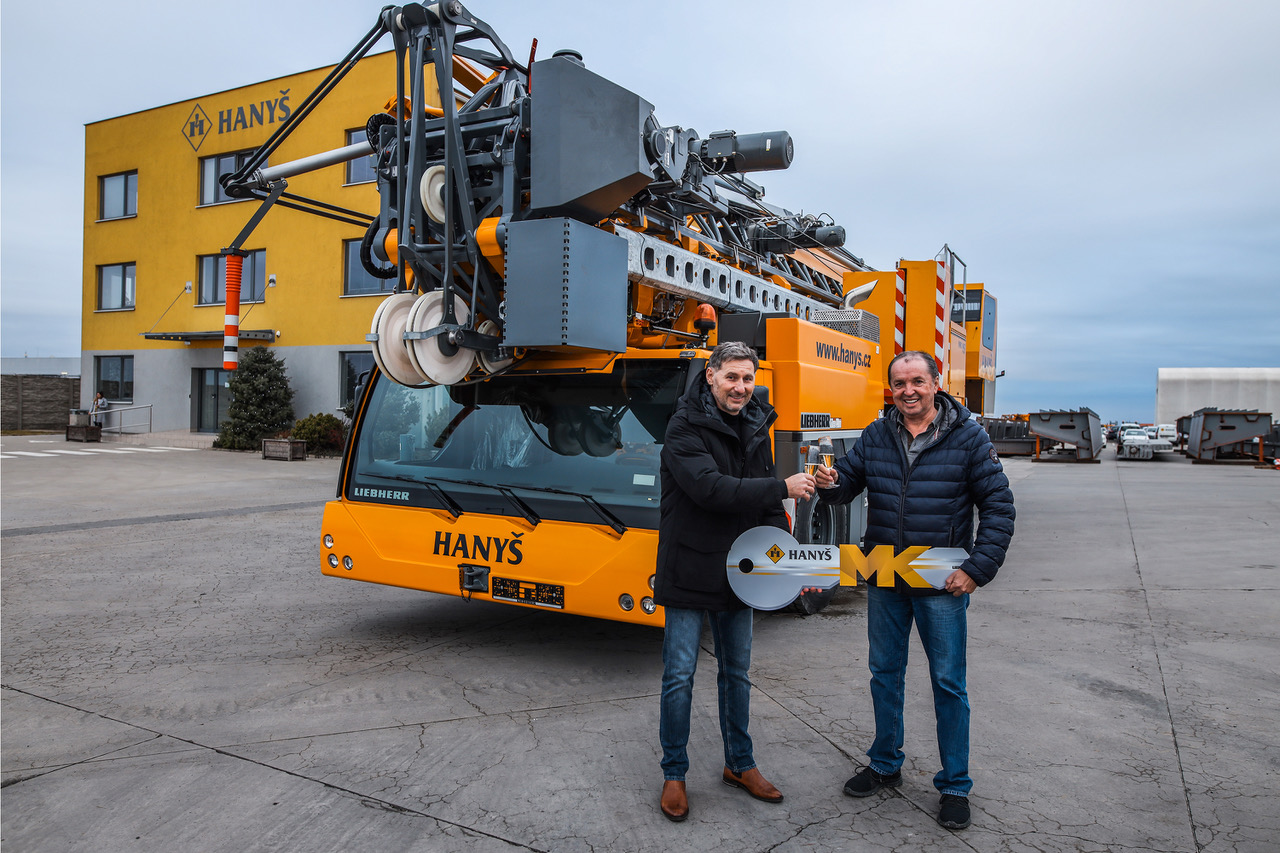 Liebherr has delivered its 1,000th mobile construction crane. The MK 140 Plus expands the fleet of Hanyš - Jeřábnické práce, s.r.o - the largest provider of crane services in the Czech Republic and is the first crane of its kind in the country.
The crane features Liebherr's VarioJib, with flexible use of trolley and luffing modes, radio remote control option and an elevating operator's cab.
"I'm confident that the crane will bring in more orders and make our work even more efficient," said company founder and owner Rostislav Hanyš at the ceremonial handover in Radonice, Prague East, where he took receipt of the new machine from Valdemar Matuška, managing director of Liebherr-Stavební stroje CZ, s.r.o.
Hanyš already has a Liebherr MK 110 in operation. The five-axle crane is the most powerful MK in the series, designed for working close to buildings and in confined urban environments. Its hybrid power concept enables all-electric operation.
Featuring a low-positioned driver's cab, the MK 140 weighs 60 tonnes and has a transport length of 16 metres. The crane superstructure is the only one in the MK series with a three-section telescopic tower of solid-wall construction. The VarioJib concept offers two operating options: the trolley mode offers a high handling capacity for trolley operation, whilst in luffing mode the MK 140 moves the load through continuous jib adjustment, achieving a reach of 65 metres and a hook height of up to 94.4 metres.
"MK series cranes are often called upon when short-term lifting work is required and conventional mobile cranes aren't an option because of the space they need to handle projecting edges of angular buildings," explained Jan Hloušek, head of tower cranes customer service at Liebherr-Stavební stroje CZ.
"The crane is perfect for jobs in urban areas and work on tall structures, such as steel framed warehouses."
The MK 140's five axles are controllable by five steering programs. Differential locks ensure off-road mobility, even in difficult conditions. Hanyš plans to primarily use the new MK for roof and air-conditioning installations and for setting up pools on roof terraces.