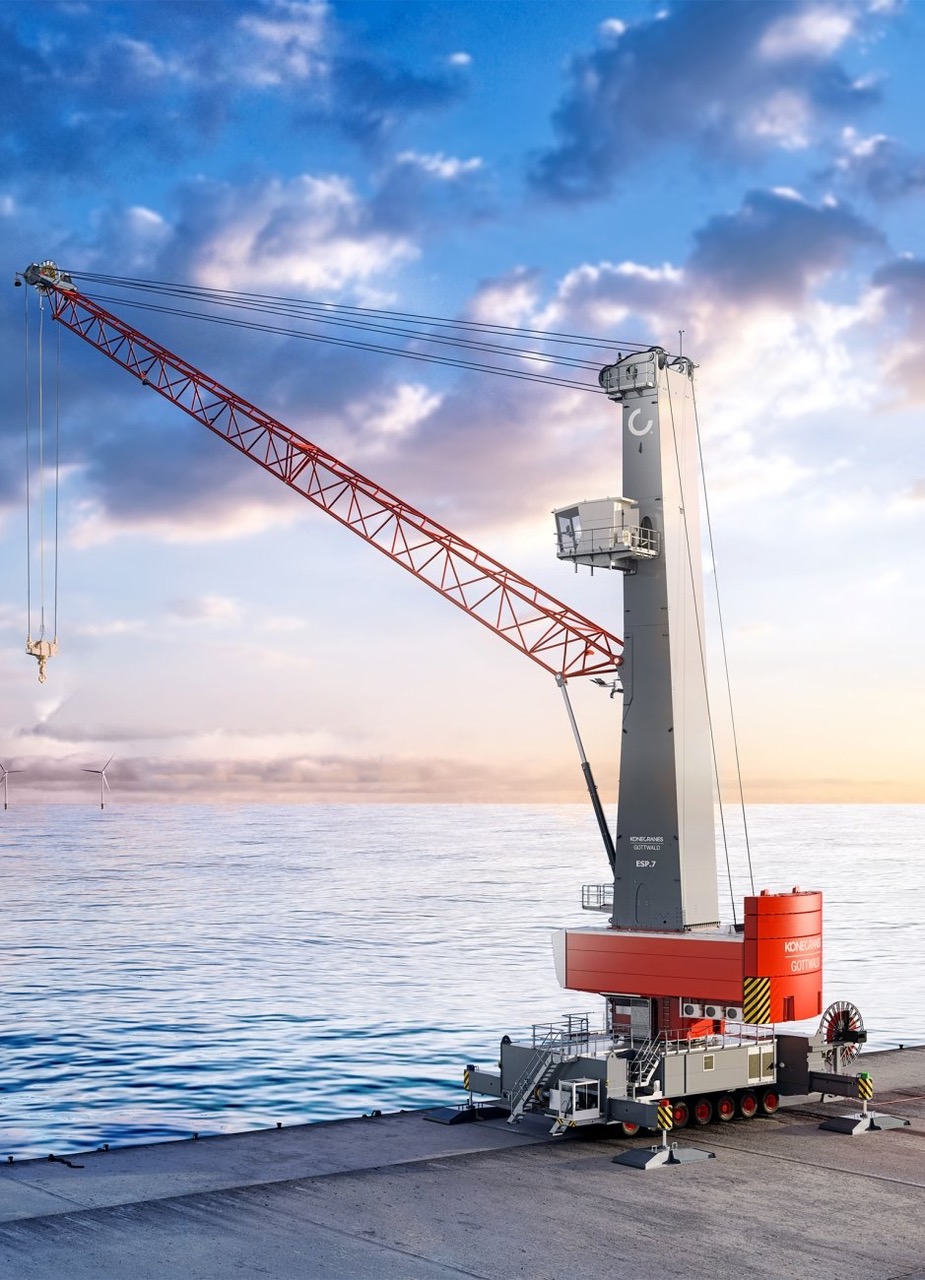 Port of Blyth, one of the UK's leading offshore energy support bases, has ordered an eco-efficient Konecranes Gottwald ESP.6 Mobile Harbour Crane for the newly refurbished Bates Clean Energy Terminal in the North East of England.
Booked in October 2021, the crane is scheduled for fully erected delivery in April 2022 and will be the first Generation 6 crane to be delivered to the UK.
Port of Blyth handles a wide range of cargo across three major terminals, with a key focus on supporting internationally significant projects and mobilizations in the offshore energy sector. Positioned midway between Aberdeen and Great Yarmouth, the Port is home to a mature supply chain of offshore energy related businesses and energy related activities carried out in the North Sea. The Port also supports transportation of a whole range of goods and materials and facilitates a twice-weekly container service from Europe.
Alan Todd, port director, said: "With a key focus on delivering an ambitious decarbonisation strategy over the coming years, we were looking for a solution to help us achieve that goal. We are keen to put Konecranes' renowned and innovative eco-efficient electric drives to good use. Our recently modernized quay at our flagship Bates Clean Energy Terminal now has mains access, so the crane can operate fully on electricity. Their ESP.6 mobile harbour crane suits our requirements perfectly."
This Generation 6 Konecranes Gottwald Mobile Harbour Crane is equipped with an external power supply. It completely eliminates local carbon emissions and reduces noise to an absolute minimum. In addition, a smart power management system recovers energy from braking and lowering movements which can then be re-used by other crane functions, or alternatively fed back into the harbour mains, as needed. The crane also offers the flexibility to be operated on nearby quays not yet connected to the mains, with its on-board diesel generator set.
"This is the first mobile harbour crane that Blyth has purchased from Konecranes. We're delighted that our industry-leading experience with electric drive systems has enabled us to provide exactly the right solution for their needs. We are sure that this Generation 6 crane will deliver both productivity and increased sustainability to the Port of Blyth and go a long way in supporting their clearly stated environmental goals," said Jon Haden, business development manager for Konecranes Port Solutions.
The new crane has a working radius of 49m and a capacity of 125t. Its long reach, high working speeds and strong lifting capacity curves will add efficiency and precision to the delivery of large offshore wind farm components and high value project cargo while improving the environmental credibility of the port.