Mammoet MTC lifts multicat vessel in Lagos
24.09.2021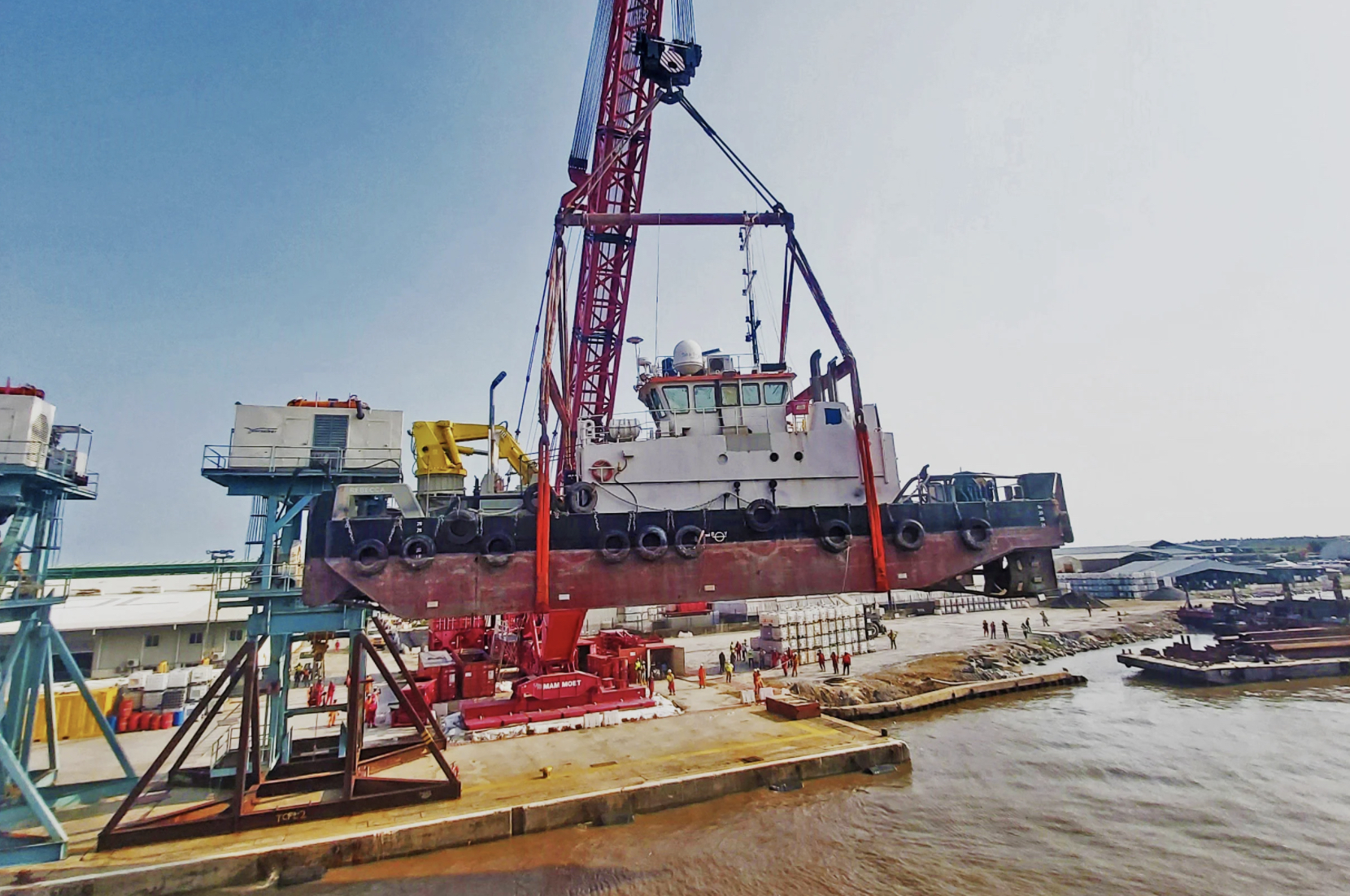 Mammoet stepped in to find a solution when procurement and logistics provider CAB van der Vinne needed to transport a multicat vessel fr om the UAE to Nigeria.
The Rebecca Multicat tugboat was originally due to be transported on a heavy lift vessel, however the huge increase in global shipping costs meant this became unfeasible and a more cost-effective alternative was required.
Following a strategic partnership agreement between Mammoet and Lagos Deep Offshore Logistic Base (LADOL) in 2020, Mammoet installed its Mammoet Terminal Crane (MTC 15) at LADOL's quayside to increase the project cargo capacity of the ports for industrial projects.
The MTC 15 transformed LADOL's quayside into a high-capacity, fully independent heavy lifting terminal, thereby unlocking faster and more efficient routes for project cargo in Nigeria. With a load matching a 1,200t crawler crane or a large floating sheerleg, the MTC 15 offers capacity for loads up to 600t to be lifted to and from any quay.
For the tugboat shipment, Mammoet's work began in Dubai, wh ere the team in the UAE oversaw the loading of the 320t multicat onto a vessel at SAQR Port in Ras-Al-Khaimah, bound for Nigeria. Once the vessel arrived at the LADOL quayside, the MTC 15 carefully lifted the multicat from the vessel, then safely lowered it directly into Nigerian waters.
The multicat vessel, destined to undertake various assignments on a dredging project in Lagos, was the largest weight ever offloaded at the LADOL base. The MTC 15 was the only crane capable to receive the cargo in the ports of Lagos from a non-geared cargo vessel.