Terex tower cranes used for construction of Austria's Danube bridge
09.11.2021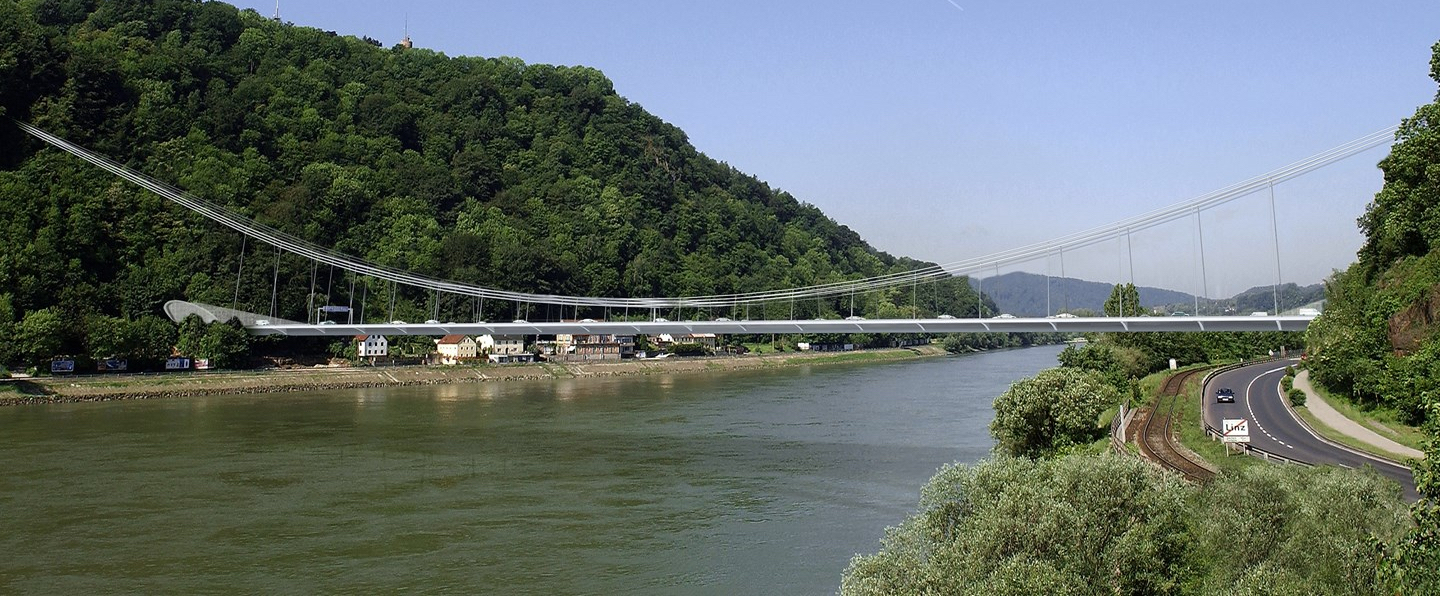 ASFiNAG, an Austrian publicly owned corporation responsible for the Austrian highways, has selected four flat top Terex tower cranes to support the construction of the Danube bridge, which project managers say will be quite a spectacle as it will almost "float" over the River Danube (there will be no visible pillars).
The construction of the Danube Bridge is the first section of a complex project to construct the A 26 Linz motorway that will, once complete, improve traffic congestion in Linz and in the vicinity of the upper Austrian capital.
The four cranes involved in its construction are: the CTT 162 and CTT 91 on the east side of the river and the CTT 472 and CTT 141 on the west side of the river.
The first two of the Terex Tower Cranes on site were the CTT 162 and the CTT 141, which were installed when construction activities started in 2019. The third crane and biggest capacity of the four – the CTT 472 - was installed in 2020, and the final crane – the CTT 91 - was installed in February 2021. The cranes are mainly used for the foundations of the structural cables, with the CTT472 also being used to assemble the cable crane that pulls the ropes across the Danube.
The cranes were supplied by crane experts XLKranlogistik GmbH, who supported the planning of the project, based on their experience in the smooth handling of large projects with free-standing cranes and high load capacities. The assembly took place using a 500-tonne mobile crane with luffing jib.
Peter Zauner, international sales & marketing manager at XL-Kranlogistik said: "Due to the limited space, the road and the railroad had to be closed for the assembly of the boom. The assembly took three days, as the tight schedule of the project meant that it had to be interrupted due to blasting work being carried out for the tunnel."
The cranes were chosen for heavy lifting and placement duties, as well as being able to handle the pressure that can be caused by a long reach and heavy load, with a maximum hoisting capacity ranging from 5 to 22 tonnes, and a jib length up to 80 metres.
Peter continued: "The cranes are providing reliable performance for the Danube bridge project under continuous operation, with comfortable cabs to assist operators during their long hours on the job. With the construction of the bridge spanning five years, these cranes are also ideal for projects with a long timeframe, designed to work hard in all seasonal climates."
Oversight of the Danube bridge project is challenging with highly complex technical specifications to consider, a wide variety of processes and interests to be coordinated as well as management of a project team with around 100 ongoing construction and service contracts.
Jörg Körtgen, sales support manager at Terex Cranes said: "We're privileged to be part of such a prominent project in Austria—it is a clear demonstration to the industry that our equipment achieves desired results, and just as importantly, we have the resources needed to back it up. This would not be possible without the service provided by our local distributor XL-Kranlogistik, who has been an integral part of this project, right from its planning stages."