Wolffkran beds in for the long haul at Spitallamm dam project
27.08.2021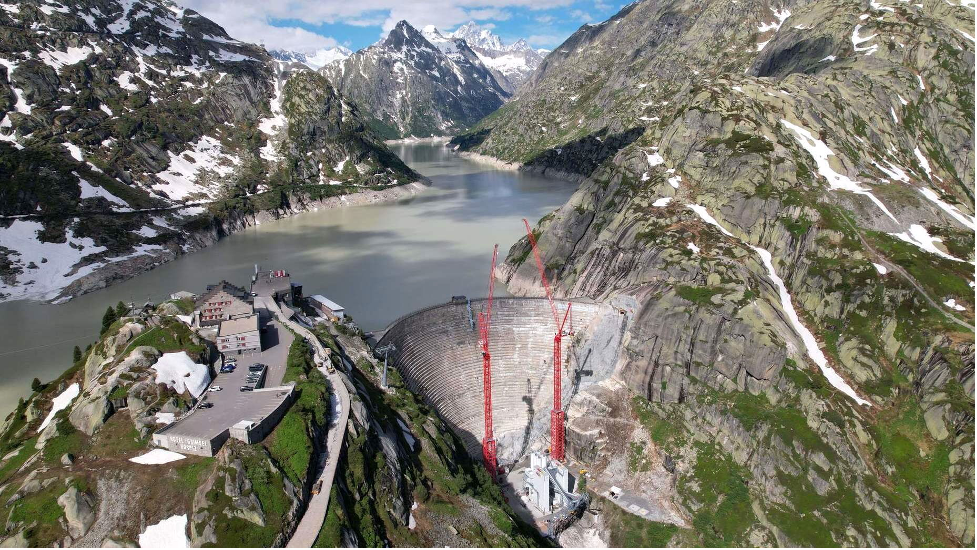 Two WOLFF 1250 B luffing jib cranes will be deployed at Lake Grimsel, Switzerland for the next four years to facilitate the replacement of the Spitallamm dam.
The giant cranes were erected in high alpine terrain using a new 6x6m TV 60 tower system specially developed for the project. Despite harsh winter weather conditions, they will build the new Spitallamm dam for the Kraftwerke Oberhasli AG (KWO) on behalf of the ARGE Grimsel construction consortium.
While summer had already set in in the lowlands, there was still snow at Lake Grimsel when the two WOLFF 1250 B luffing cranes were erected this June. Thanks to good weather and smooth transport logistics, the eight-strong Wolffkran erection team was able to erect the two cranes with 70 and 75 meter jibs to their respective final tower heights of 92.1m and 87.1m in just two weeks.
Since virtually no crane components could be accommodated on the extremely confined construction site, the deliveries had to take place "just in time" - not an easy undertaking with 70 trucks having to reach the construction site via the winding access road.
According to Wolffkran, the real stars on the construction site are the fourteen XXL TV 60 tower sections, which were erected in advance last summer and have successfully passed their first winter test, with snow heights of over ten meters on the site at Lake Grimsel.
Having determined that commissioning the dismantling of the cranes for the winter break, coupled with the subsequent transportation and storage of the components, would have been both cumbersome and unprofitable, the decision was taken to leave the cranes fully erected on site for the entire construction period of four years.
As a result, Wolffkran's project engineers had to rethink the entire crane concept in order to meet the demands of the harsh winters that the cranes would be subjected to.
"It's a major endeavour, but it is still much more economical than disassembling and removing the cranes every winter and reassembling them again in the summer," says Rolf Mathys, managing director of Wolffkran Schweiz AG.
"I am confident that our WOLFFs will manage their high mountain tour well. We have intensively prepared for everything and are already in the planning stages for another high alpine project."